3 Ways to Get Healthy in the Workplace
The three things you can change to get your staff more productive and creative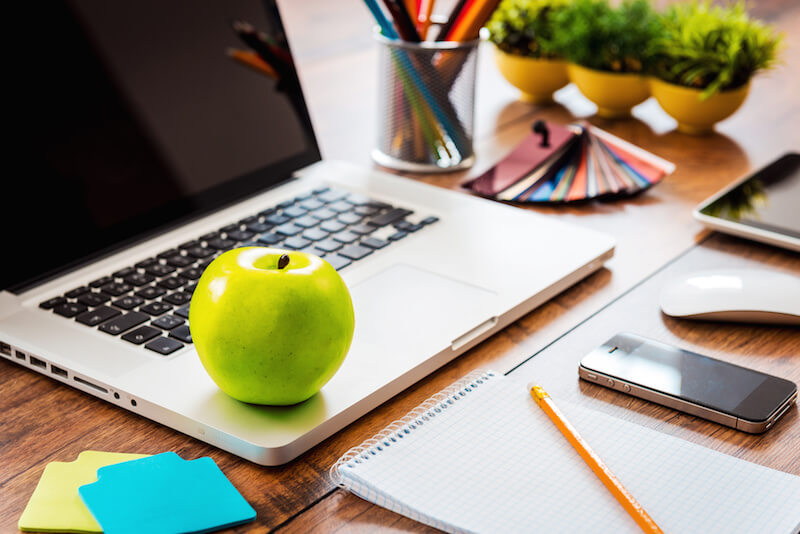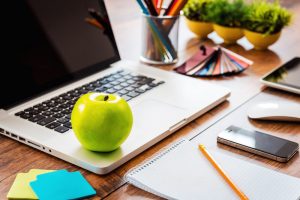 Creating a healthy workspace for your staff is key to their productivity and satisfaction. Whether you're looking to relocate or just want to update your current office, these tips will help you and your staff move towards a healthier workplace. Here are the three areas you need to focus on to increase the output, creativity, and wellbeing of your staff.
Fit-out and furnishings
The physical environment of your office can make subtle, but effective changes on staff wellbeing.
When looking for a new office space
When inspecting new offices, look for spaces with abundant natural light and few to no columns. It's also worth noting whether windows can be opened.
Important to consider when looking for a new office are the building's end of trip facilities. These are a valuable asset in employee wellness and satisfaction. Many new or refurbished buildings have state-of-the-art facilities with showers, lockers and bike racks at a minimum. This encourages staff to cycle to work or exercise throughout the day. Research from the University of Sydney found that people who cycle to work are twice as happy, benefiting their mental health and increasing their daily activity.
Bright décor
Furnishings and office décor also plays a surprising role in employee health and productivity. Colours such as green, yellow, and blue accents for walls and furnishings can stimulate creativity and focus. A bright and welcoming office also creates open and friendly culture, which is one of the largest influences in an employee's productivity and satisfaction.
Add in greenery
Bringing nature in to the office is a universal way of brightening up an office and improving employee mentality and working habits. A UTS study on office plants found that they re
duce stress and anxiety, and increase productivity. Sick leave and symptoms of illness are also decreased with the presence of green life, making it a must for all offices. Try desk plants along with larger plants in common areas and hallways. There are many services which will provide the plants and their upkeep, with a wide range of plant types to choose from. Green walls can also be created in many ways, even as simply as an open shelf stacked with large-leafed potted plants. Greenery really is the perfect way to perk up any office.
Food
The food most commonly eaten around the office has a massive impact on productivity and health of employees. Whether it's at occasional office events, or daily as snacks offered by the company, providing nutritious, fresh options is essential.
Fresh over packaged
Packaged junk foods are high in fat, salt and sugar, leading staff to experience energy crashes and stomach aches, along with long-term health issues. This means they'll struggle to concentrate and feel tired and sluggish. Instead, offer fresh fruit and bottles of water around the office, and keep catering to mainly fruit and vegetable platters, salads, and wraps.
Eating habits
Good eating habits are also a major part of wellness. When choosing a new office space it's important to consider the breakout area. An attractive breakout area must have appropriate tools to prepare and eat meals, encouraging people to bring lunch from home. Room for staff to sit either communally or alone is also needed, as eating away from their desk gives staff a complete break from their work environment. It also allows for more conscious eating. Healthy vending machines are another great way of promoting wellbeing within the office. Many companies now offer staff complimentary in-house catering and snacks, an investment in staff retention, satisfaction, and health.
Activity
Incorporating exercise into the workplace and its culture can be a fantastic way of team building and getting staff active. Generally fostering a culture of movement around the office is a key part of this; staff need to feel comfortable leaving their desks at lunch and taking breaks to get out of the office.
Fitness
Team sports can also be popular within the office. Arranging a soccer comp or running club can encourage team bonding and increase job satisfaction and loyalty. Corporate yoga is also popular, particularly given most staff are sitting at desks for long hours each day. Another fun tip is to get your team to track their steps, and offer a prize for the person with the highest steps in one day each month.
Sit/stand desks
Sit/stand desks are increasingly common in the workplace, for good reason. Research has condemned the long periods of sitting at a desk that most workers do all day. Much of the research links hours of sitting to cancer, heart disease, diabetes, and obesity. This is where standing desks come in to offer staff a mix of both standing and sitting. The reduction in health risks and convenience to staff make these a must when revamping your office desks.
The overall trend towards healthy eating and living so easily applies to an office environment. Implementing a few of these simple tips will get staff moving and thinking better than ever.