SPEC FITOUTS versus BESPOKE FITOUTS
Commercial office vacancy is at an all-time high, thereby applying pressure on Landlords to create attractive 'Spec Fitouts." With construction prices continuing to rise, spec fitouts may be seen as more appealing for tenants.
What is a Spec Fitout?
A Spec Fitout is a new fitout constructed by landlords without any pre-commitment to the space by a prospective tenant. In most cases the cost of the Spec Fitout is the incentive provided by the Landlord.
A SPEC FITOUT vs. BESPOKE FITOUT
There are several pros and cons when comparing a Spec Fitout with a Bespoke Fitout, which is purpose-built to meet the current and future needs of your business.
A Spec Fitout can provide tenants with a vision/idea of how a fitout may look and feel on a specific floor within a building. The opportunity is presented to tenants to take the Spec Fitout "as is" or to make "slight" adjustments to suit. The idea is to attract the tenant to lease the space sooner rather than later, and to mitigate the risk of going through a design and construction process for a Bespoke Fitout. The concept is attractive in the sales process through enabling the tenant to move-in faster. It should be noted that Spec Fitouts are aimed at smaller businesses – usually 100Sqm to 1,000Sqm.
Don't Judge a Book by its Cover
A common idiom that can ring true and goes hand-in-hand with "Buyer Beware."
There can be a high level of compromise on the tenant's side for a spec fitout, in the terms of the layout as it is not purpose-built to their operational requirements or business needs. Spec fitouts do not offer tenants the same room for customisation.
The tenant has no control over the design and quality of fittings and finishes, or any input into mechanical and electrical requirements, including advice from your IT provider. A typical fitout will apply a minimum of 30% total cost to mechanical/electrical works. These are the "unseen", yet critical components that ensure your fitout functions for the practical day-to-day running of your office.
Questions you should ask (Spec Fitout)
• Does the fitout truly meet with your future needs, or will it require substantial adjustments?
• Do the meeting rooms/boardroom have supplementary air-conditioning (an enclosed area with more than 6 people needs supplementary air)?
• Will the landlord provide you with more condenser water for the supplementary air?
• Does the comms room have an air-conditioner (not essential if cloud based)?
• Are the walls built slab-to-slab (much better for sound suppression)?
• If not (to the above), are the wall cavities insulated for noise suppression?
• Is there sound baffling in the ceilings to contain sound transfer (ie from the boardroom or offices)?
• Are the offices sound-proofed?
• Are the workstations and offices hardwired?
• Are there window blinds?
• What are the security features for the office?
These are just some questions that can add considerable cost to a Spec Fitout.
Bespoke Fitout
With a Bespoke Fitout, a tenant has control over the design for purpose, furniture, finishes, mechanical and electrical services, and their budget and timing of the project.
The fitout enables you to choose what is best for the future of the business, and also enables you to utilise your incentive for the best outcome for your business only, and not the Landlord.
Different companies require alternative needs in terms of number of enclosed meeting rooms, quiet rooms, boardrooms, size of workstations (sit-to-stand or fixed), break-out areas, collaboration spaces, IT and Audio Visual requirements.
Your office challenges may be different to other companies within the same industry. A Bespoke Fitout assists in maximising productivity to support businesses now and for the future.
Your Incentives
It is important to note that in most cases, a Spec Fitout form all or part of your incentive (will depend on the lease term).
With a Spec Fitout you have no control over the Landlord's assessment of how much incentive was allocated to the Spec Fitout. With a Bespoke Fitout you have total control over all of your incentive and your fitout budget.
PROS AND CONS
Spec Fitout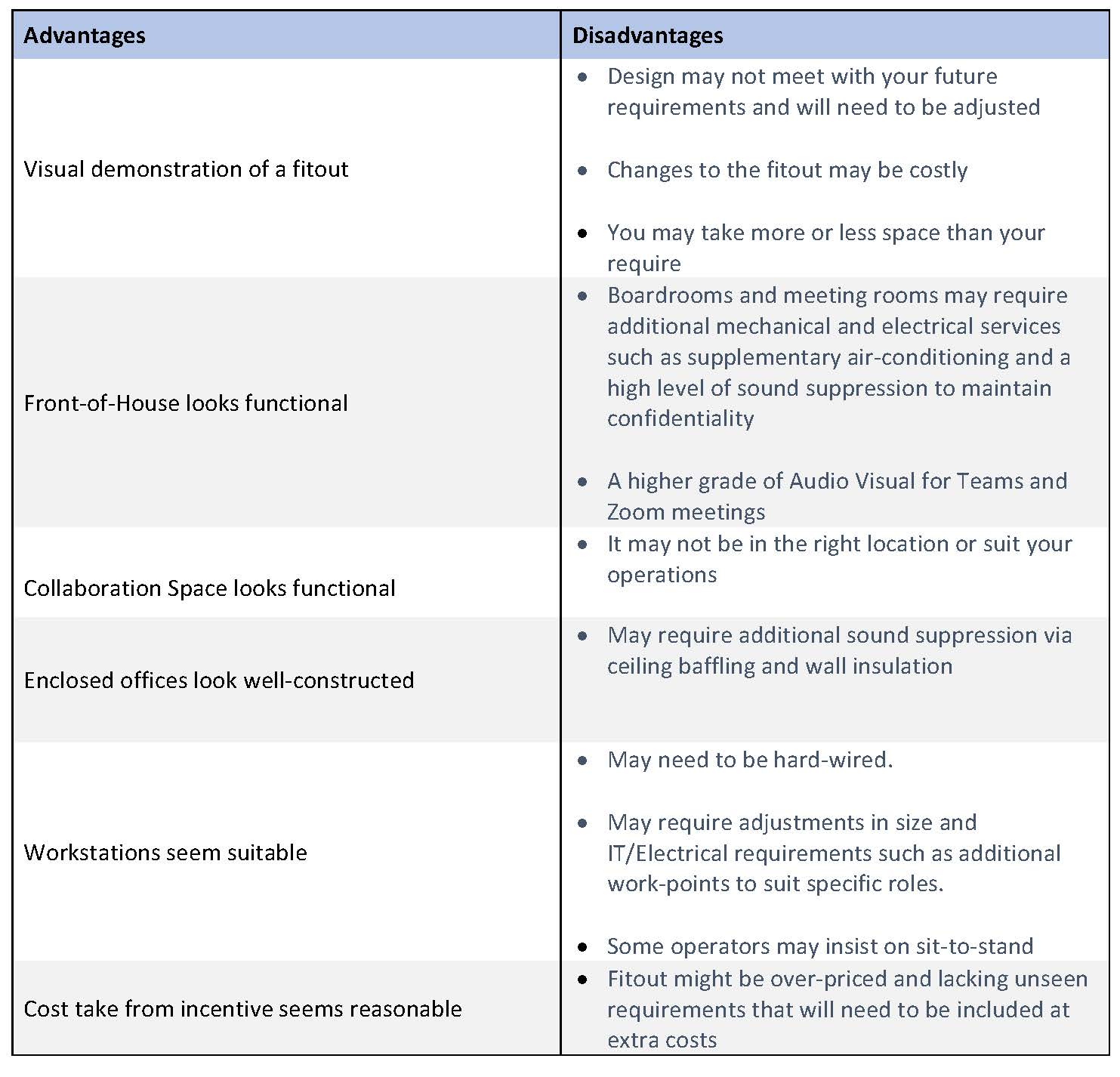 Bespoke Fitout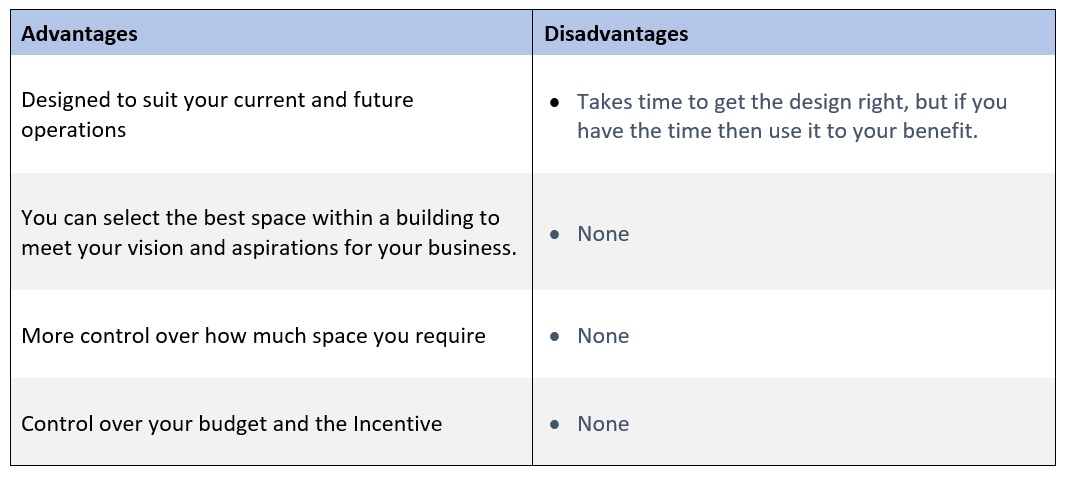 Our recommendation
TRS lean towards Bespoke Fitouts because we want the right premises and the right design for our clients, not the best available option on the day designed by a company that does not understand our client's business and operational needs into the future. However, we have had some clients opt for a Spec Fitout with minimal changes.
From our experiences, there are very few disadvantages with a Bespoke Fitout (compared to Spec Fitouts), and there are greater benefits to designing your own space for the purpose of your business, and controlling the incentive provided by the Landlord.
Tenants get more "bang-for-their-buck" from designing their own premises – the budget and incentive go further.
How can TRS help?
Converting spaces into functional workspace is crucial. At TRS we refer to your Workplace Strategy plan to ensure that your fitout aligns to your business goals both in the immediate term as well as in the future.
At TRS we have 20 years of experience in fitout advisory, undertaking hundreds of projects. [click here for our case studies]
TRS can help you to manage and consider your needs, to deliver a design and fitout aligned to your requirements. We work with you from inception to completion, to ensure your requirements have been met in time and within your budget.